i've had some crazy wonky stuff going on today…. physically… which then leads to mental… but i'm mental anyway so i guess it doesn't really matter ha!
i have headaches EVERY SINGLE DAY … every single day… day in and day out… relentless… i take ibuprofen and dayquil at least 4 times a day to help keep the edge off the headaches… surely they will stop eventually? right? it's been about 5 or 6 weeks now… damn shit….
yesterday my facial muscles on the right side of my face were mis-firing… cute…. twitch, twitch… no i'm not making faces at you cashier lady, i swear…. it's this damn MS garbage…. twitch, twitch… all day long… took my muscle relaxers but the twitching didn't stop for a long time… it must've lasted until the early evening hours at least….
this morning when i woke up, with a headache as usual, i seemed pretty ok… got myself up and going, coffee, meds, clothes… out the door… as i was driving it hit me… WHAM! my whole entire body was like one giant ass restless leg… does that make sense? probably not to those of you who haven't experienced restless legs… let's see….
it's like you can't stop moving… no matter what you do… constant motion… the muscles feel tight…there's this desire to move, shake them, stretch them…. i can't explain it….
this morning i was ready to crawl out of my freakin skin! driving down the road with this restless, anxious feeling… i couldn't hold my legs still… not good when one is driving….. not good at all… i was talking to myself…bouncing… wiggling… and i was on the verge of jumping outta my car at the longest red light in the world… ever…. and running around the car a few times….
alas, my angels were watching over me… i made it to work safely… i got out of the car and started stretching my legs…they were the worst…. i'm sure i looked like a real doll… fat ass up in the air, legs spread beyond shoulder width and me trying to bend over and around my two tummies (yes, i have 2 tummies, gotta problem with that?) to stretch out my thighs as much as possible… pretty eh? ha! and everything everywhere at work is recorded… so there is video of me doing these things floating round some server somewhere… great… but you know? i really don't give a shit! i was so miserable!
this restless body thing lasted until at least 1 this afternoon… it's still with me now but not nearly as bad… i can almost ignore it….
i was attempting the chill out with some music at work today… i just love hans zimmer… he is a fantastic composer…. the soundtrack from davinci code is some of my favorite music – i was spinning around the office, dancing, twirling… trying to burn up some of this restless crap (i share an office with 2 officers – thank goodness they didn't come in and bust me… would've been tremendously embarrassing for them… not me )…. then i stumbled up on some dizzi dulcimer and let me just say this – a.ma.zing.   wow! take a listen…. you won't be sorry….
it's incredible to watch her play this thing…. but close your eyes… really listen to the music… man… doesn't it just give you goose bumps? it brings tears to my eyes….
on the way home today i snapped this little photo…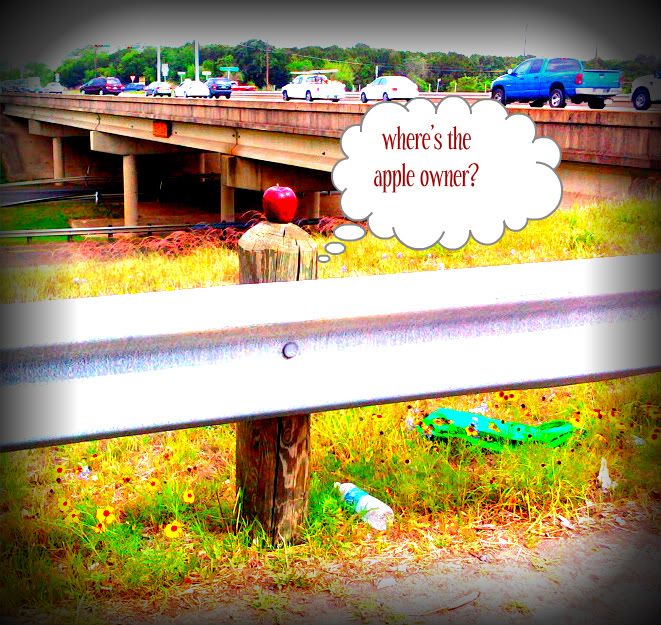 how often do you see an apple on the post of a guardrail on an overpass? where was it's owner? and why would he leave his apple behind? i mean, i know he must be hungry… he lives in the woods across the way, he's out there everyday asking for change… why would he leave his apple??
p.s. do you think it's only bloggers that hang out a car window to take pictures of this junk? blog fodder!