since i had such a fabulous time of it last time, i think i'll have another go round in the tube of meditation (MRI machine)
not really by choice
doc thinks it's a good idea… checking for a new

lesion

… or 2 or 3 or 4, or more?…. since i have this numbness and suffered that suicidal-level pain for 2 weeks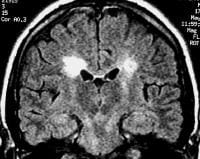 this is NOT my messy mind… one day i will post my pretty brain
 if i had to guess… i would say i have more lesions
but what fun would this MS adventure be without new lesions to spice it up?
hadcentex renegade practice last night…. that's the semi-pro team coach landed with.. he's the defensive coordinator – go coach!
the practice field is in a city park…. nice…surrounded by trees….
about 45 minutes into practice… police helicopter…blacked out… circling
for 2 hours at least
found out there were two robberies within a 4 block radius of the park
1 store clerk shot
1 suspect fled
i see the story has been updated…. they caught them… both juveniles…. capital murder charges involved…lovely
my bible is packed away with all my stuff... in a nice storage place… expensive storage place…
so far i have paid $2,430.00 for storage rent… holy shit!
i miss having my bible… that was the point here
so i found an electronic one on the world wide web… imagine that!
i put it here… well it's up there… on the tab labeled "the bible"
bet you wouldn't have figured that one out eh?
oh… wait! this is cool…..
i was reading over at have myelin?'s blog
her mom gave her a zentangle book!
way cool! I FULLY INTEND TO DO THIS!
here's some sample zentangles i stole from various spots on the web so you can see what they are:
http://www.milliande.com/Zendala-How-To-Draw-A-Mandala-Zentangle-Style.html
 

http://ingriddijkers.blogspot.com/2009/01/zentangle-octopus.html

 

 
http://www.craftster.org/forum/index.php?topic=317639.0
i will have this!
i will create!
but i

half

  have to wait til February
(MS kicked in on that one word… damn brain fog…i never did that kind of thing before)
the thing about working for a school district… or the state for that matter…. you only get paid once a month
now normally i LOVE this… all bills paid on the 1st…. no matter what
but this time of the year it sucks
we get paid on the last working day of the month… so in December it was the 17th… last day of work for the month
and we don't get paid again until JANUARY 31st
that is a really long ass time
so we are broke…. oh well… blog on!

it's free
p.s. did you notice what a good blogger i am today?  just look at all those links i included! they say that's a rule of good blogging… whoever "they" is…. ha! way to go Sherri… you good little blogger (it's free, remember)