yesterday, we went out to eat with coach's cousin and his wife. great people.
we made our way over the hippie part of south congress avenue and stopped in at a restaurant called Guerro's… while i had heard this was a great place with great food…. well, the place was great.. i will give it that. lots of atmosphere…
the people, customers, were not so great really. amazes me how completely unaware people are of their surroundings. namely, the other people around them. i had my cane with me… a very visible sign that i have a problem of sorts… add to that the oh so lovely iv port hanging off my hand/arm… the place was crowded but not packed… at one point i wanted to make my way to the ladies room which was situated at the back of the restaurant…we were seated near the front door. i got up and made my way to the main isle of traffic flow… at least 12 people cut me off, ran me over, tried to work their way around me… and i really wasn't moving all that slowly. i had such a time trying to stay upright and protect the iv port from being ripped from my hand. and the looks… wow… such looks of annoyance and disdain… sorry folks!
i returned to our table and made the executive decision that i would be safer hanging out on the front sidewalk… lunch was over so it was okay… i stepped outside under the awning (it was raining) … the others in my group followed… relief
earlier we had noticed a trading company store across the street that looked intriguing…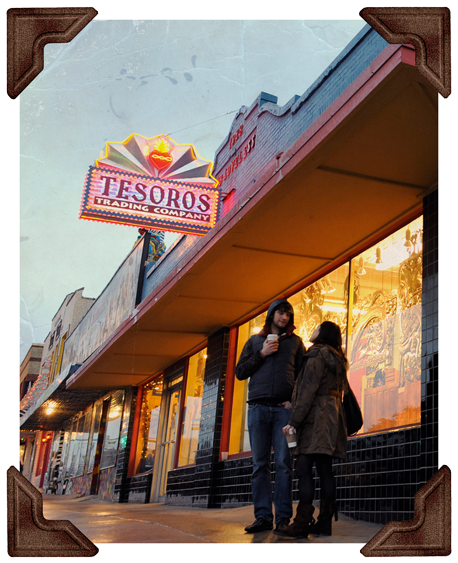 there was some really COOL stuff in this store… wow! i could've spent hours and hours in there….i spoke to one of the sales clerks… i was asking about inventory and such… she told me the owners of the shop travel the world and buy things they like… those things are then shipped back to the store and included in the inventory. so things are ever changing in there… great incentive to go back and visit frequently.. nice to find a place that doesn't rely on what exporter companies think are selling and trending…
i found many cool patterns that i think would work well in drawing…. took some photos to work with… as attempt to draw them i'll include the pictures i took….
my iv line infiltrated last night so i took it out… there were also a few good sized air bubbles in the port… not a good thing… so effectively i'm done with the infusions…. that's perfectly alright with me… i'm feeling a bit better… i've noticed that my swallow is working better and some of the paresthesia in my hands and feet is a bit better…. all good things….
now today i think will be a day of drawing, cleaning… oh! and a shower!!!!!