i worked my other job today… the one i love…. dispatching in a 9-1-1 centralized comm center… and let me tell you – it was freakin' crazy today! is it a full moon? i need to check on that… unreal today… let's see… without giving too many details…. my morning started with a barricaded person and required the negotiation team… first thing in the morning! then we moved on to some theft calls, a fire alarm…. lots of reckless driver calls… an attempted suicide, and then a completed suicide… stolen ponies…. and families fighting over what to watch on TV… yes, they call 9-1-1 for that stuff….
i was so glad when my shift was over… i was done playin and ready to get out of there… not to mention i REALLY needed a smoke…. not allowed to smoke during work hours at this job… i do pretty okay with it but when it gets whacky crazy and the stress levels go up, down, up, down… well nothing is quite so good as a bit o nicotine 😉
after the job, we went out to visit with Dad and Stepmom…. we haven't seen them in a month or more…Dad is doing so well after his bypass…he looks so healthy and the rehab seems to be doing good for him… i love that man and i can't imagine him not being here….
back home there are a few festivals each year that are kinda fun… arts & crafts, music, food… they run the weekend long, block off the streets and people come from all over to these events…. this weekend is the bluebonnet festival – when i was a healthy girl i loved going to these festivals…the people watching is amazing….the food & music is great…and the crafts are wonderful…. i don't go anymore…it's so much walking and it's hot…. not good for the MSey me…. anywho…. Dad & Stepmom went out to the festival this morning before our visit… Dad has been looking high and low for the special cool cane that suits me ever since my diagnosis… i'm unique 😉 i require a unique assistive device….  and check out what he got for me!! wow!!

a big giant walking stick!!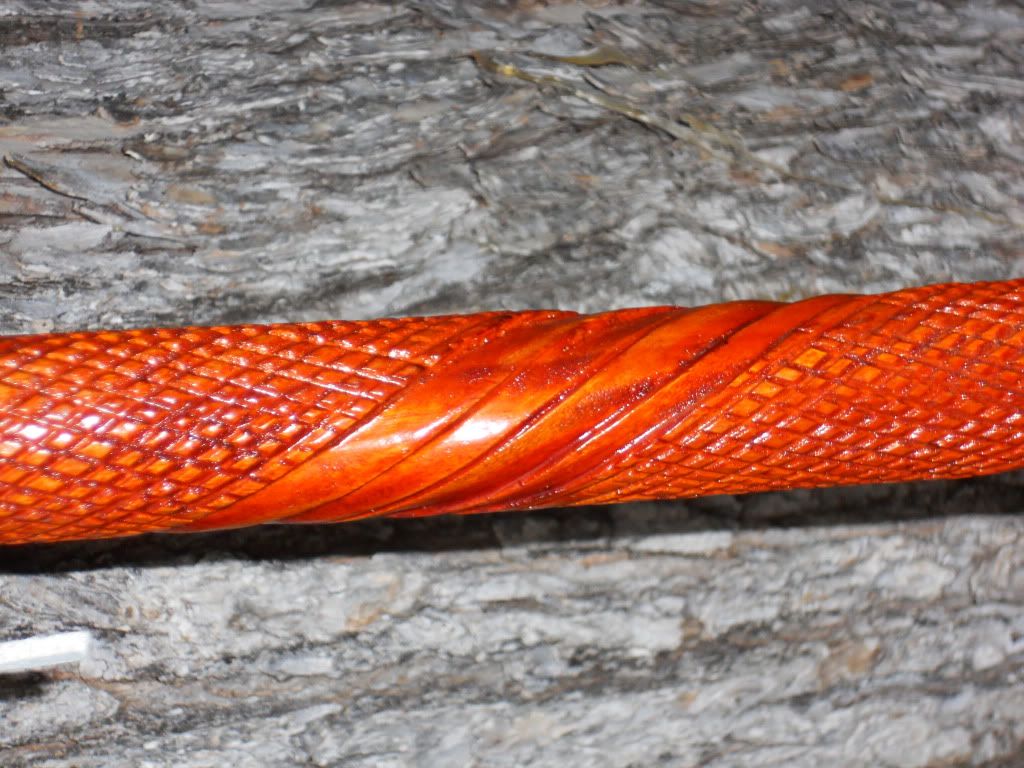 look at the carving on this thing…. beautiful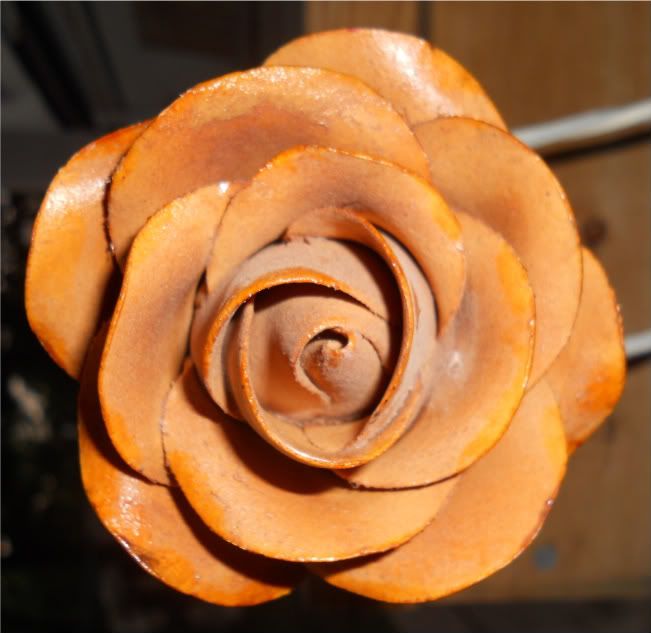 and this fabulous teak rose is mounted on top
my Dad… perfect! this is the best thing ever…
Thank you so much Daddy! This is just wonderful and I will use it until I wear it out! I love you!
ok….
so thursday night our lives were violated! damn people…. coach's truck was burglarized!
friday morning coach was on his motorscooter pulling out of the driveway heading to work when he noticed one of his screwdrivers in the driveway… he thought "how weird, how'd that get there?" … he got off the bike and went to put the screwdriver back in the toolbox…. you know the kind… the redneck kind… big black diamond plate box that is mounted in the bed of the truck… anywho, he opens the lid….AND ALL HIS MAN TOYS ARE GONE!! dang…. sheriff's deputy came out and took the report…. i called the insurance company…. and then when i got off work yesterday we drive to a few pawn shops to see if the tools had been clucked off yet… no luck….damn thieves!
so i think i have mentioned one of my BFF's here before… Jenny….she hangs out at her blog
"My Life As Jenny"
(go check her out..she's funny as hell)…. Jenny has a fear of gnomes… and i ran across something today that i need to let her know…..
Jenny! H.E.B. grocery stores are helping you out… they are capturing garden gnomes…rounding them up! look!!
ok… time to get outta here… coach is grilling up some steaks and potatoes for dinner! yum! i got me a good man… 😉