>it's been a weekend….
friday night of course we all know i busted my ass… then this morning i had your basic mental health breakdown… yes… over a stupid spilled cup of coffee! i was trying to be nice and fix coach is cup of joe… it's about a 20 oz mug he likes to use… two scoops hot chocolate mix…. good…. pour the coffee….excellent job! stir well until mixed…. fabulous! but as i was attempting to remove the spoon from the inside of the mug… hand/arm spaz… i knocked the inside rim of the mug and 20 0z of chocolate coffee went freakin everywhere…. and i melted…sobbed….
i know… it's only coffee… cleans up… yeah… but i'm sick of being a spaz… and i'm only 6 months into this crap… i feasibly have another 40 years or so to of this shit… i best learn to get a grip on myself… it's just so frustrating though…
the football team played last night… we won! wow! woo hoo! go renegades! 14-0…
i've been tangling…..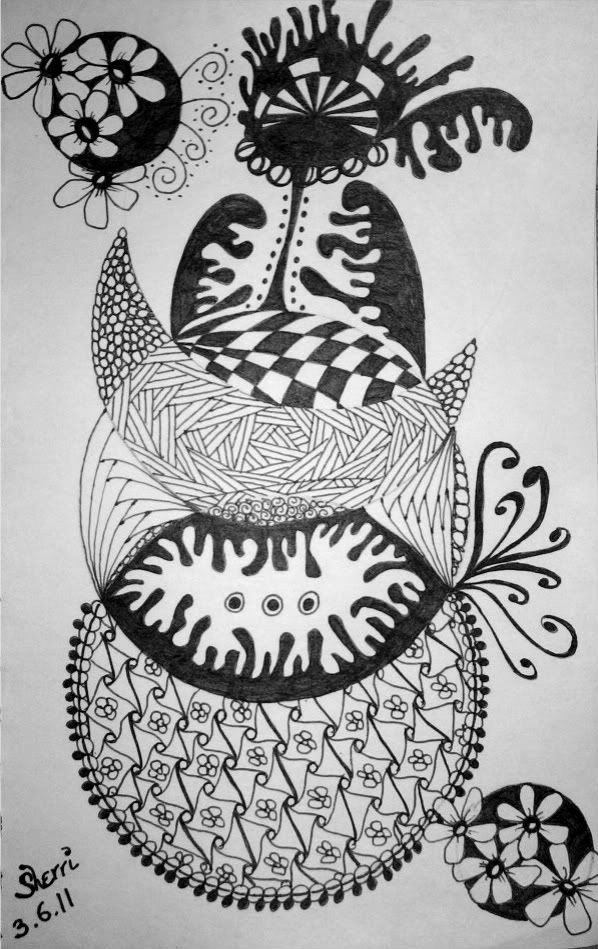 then i uploaded it to photobucket (my favorite photo site) and started playing around with some of the effects…. way cool!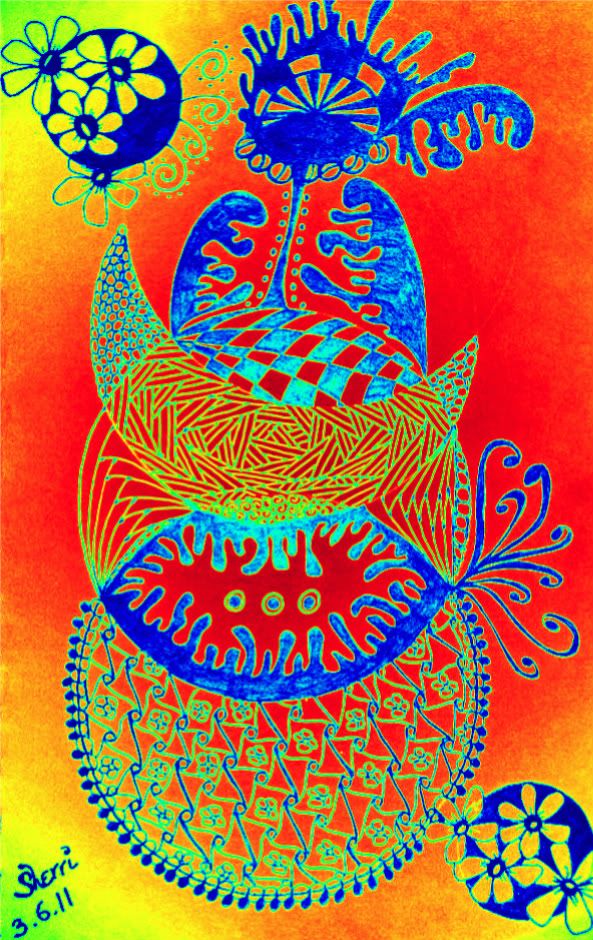 i was telling coach this morning that it would be really fun to have a whole section of wall… or something really big like that to play around with…. maybe i'll do the wood slats on our porch ha! i figure if it turned out looking like garbage i could just sand it off and start over…. hell, i could do that 100's of time before the 2×4's got too thin to walk on ha!
i hope your weekend is going well….
oh wait! lemme show you…. at the game last night there was some excessive showmanship… i guess that's what it would be called. … pre-game… helicopter lands on the field to deliver the game ball…. one would have thought it was the superbowl or some shit… except that we were on a on high school field and the tickets were $10… and there was MAYBE 50 people there…. and the announcer? holy hell… awful! and he's got to be the worst DJ i've ever heard…. he would play part of lynyrd skynrd and then flip over to john freakin denver! really? then we would go from queen's we will rock you for about 30 bars, it would abruptly cut off and we'd pick up somewhere in the middle of some black eyed peas song…. sheesh! oh and i must not neglect to let you know that at one point we transitioned from "thank God i'm a country boy" right into "YMCA"… really… would i kid you?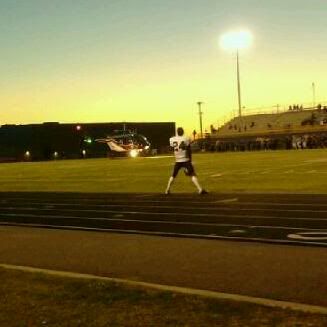 hahaha great website