>#274e13;font-size:small;">
#274e13;">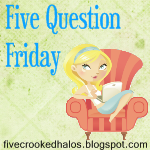 http://fivecrookedhalos.blogspot.com/
Ah, Friday. I'm so glad to see you. This has been a long and busy week. The only downside here is that I don't have any time off this weekend. I will be spending my days off working at another job. This dang recession has forced me into doing this. And it sucks. I so value my down time and when I don't have any, I become distrubed (ok, so I'm already disturbed by nature ha). I looked at my schedule and I don't have a day off with no work until October 2nd! Sheesh!
I haven't done one of these in a while… so I thought to myself "Self, why not? It's been a while. And you're still being true to yourself. Do the meme… it's ok Self" So here ya go:

#274e13;">
1.
What is the first nightmare you remember?

I don't remember how old I was, but I do know I was more than 4 and less than 10. I had my own bedroom at the end of a long hallway. My mother had made me the prettiest sheer butter yellow curtains. My bed was on the opposite wall of the windows so I could lay in bed at night and see the stars and moon as I was falling asleep.
At some point, I started having a recurring nightmare. Outside my bedroom window, peering through those beautiful sheer curtains was the most hideous monster! Not the whole monster, but just the head. Floating in the air. Laughing…no, more like and evil cackling! I had this dream for so many nights that I lost count… I was so scared!
Then they just stopped.
2.
Even if you're not a sports fan, what's your favorite sport to play/watch?
I can't believe that I continue to admit this, but I have been getting pleasure from football. How absurd is that??!! This is a woman that HATED the game for 42 years.

I also like watching baseball from time to time. I would rather go to the game than watch on TV but, alas, I have no money for that (besides, I hate being around crowds)
3.
If you could pull off one piece of trendy fashion, what would you want it to be (

jeggings

, hats, thigh high boots, etc.)?
I'm not interested in fashion at all. I am more interested in comfort. I was just thinking about this an hour ago. I could care less about Gucci, Chanel, and DKNY.

I would love to be able to pull off – well I don't know. I think that I've been able to pull off just about anything I've wanted. I have my own unique style and those in my world know I'm kind of weird so they really don't think too much about it when I show up with something considered unusual LOL

I'm a bandana wearing, ugg boot or work boot (but mostly flip-flop) wearing, flannel shirts, headbands, weird glasses wearing kind of girl.
4. D
id you make good grades in school?
Which time? ha!

In high school, not so much. I didn't really care. And the work was boring to me.

In nursing school I did fabulous. I had A's across the board. Speaking of boards, I ACED the state licensing board examination too… let's hear it for Nurse Sherri!

This go round, I'm doing really well. I have maintained a GPA above 3.6 for the past 2 years. And that's being accomplished while working two jobs and still playing with my Coach LOL
5. What magazines do you subscribe to?
Tricycle (a Buddhist on-line mag)
I much prefer to read books and newspapers. I get really bored with reading about what celeb is doing what. Honestly? I don't give a flying f%*k about what they're doing. And some of the writing in the mags these days is so censored, and so geared toward people that I am not, I just can't justify spending the money. That second job is to help pay bills, food, and maybe create some cush in the account… not for mags….